American Industrial Mining

Company Museum

Preserving Our Mining and Industrial Heritage
A 501(c)(3) Non-profit preservation, restorations and education organization
Plymouth Locomotive Works
Plymouth, Ohio
Information gathered from AIMCo's archives of Plymouth catalogs & builder's photographs
Where the Plymouth name came from: The transition from manufacturing automobiles and trucks to locomotives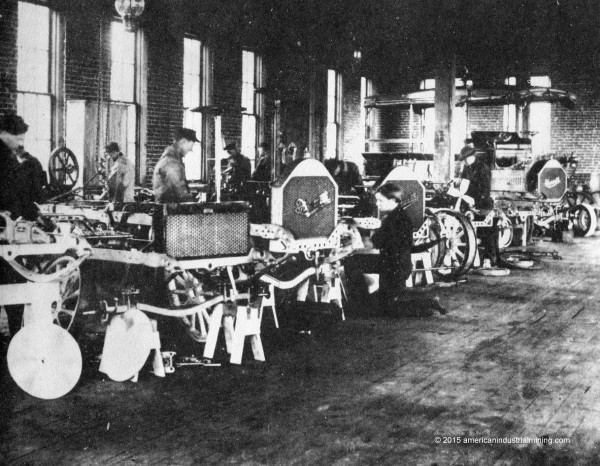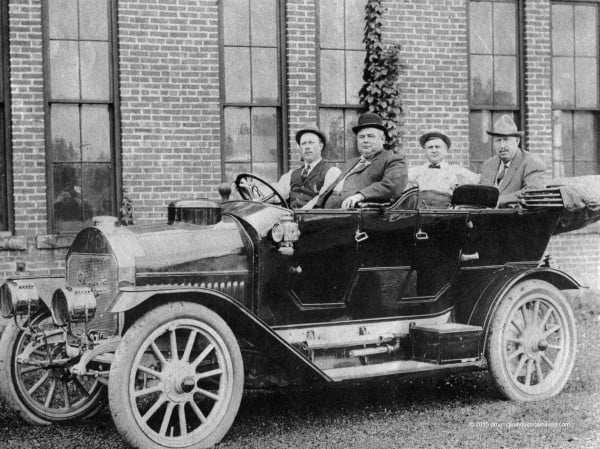 Inside the plant
The Plymouth Truck Co. a joint venture with Harley Fate & A Toledo firm. Trucks Built (1909 - 1915) approximately 175 were built.
Prior to this Harley Fate manufactured clay machinery ranging from Lenox China to bricks for street to houses & buildings.
1910 Photo
The first Plymouth Cars were built in Plymouth, Ohio by Harley Fate at the Plymouth Truck Co. . The Chrysler Corporation purchased the name in 1928. Pictured is the only touring car built (one of one). The engine let go on a trial run returning from Atlantic City. The decision was made shortly after to shift to manufacturing industrial locomotives.
Harley Fate is pictured in the passenger seat.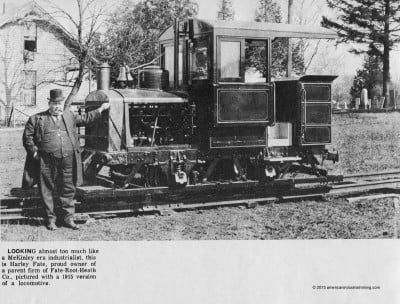 Clearly the design is similar to that of the trucks originally built.
In 1912 Bigelow Clay Co. in New London requested for a device to replace their stubborn mules for transporting clay from the pit to the factory.
The FIRST friction drive locomotive ever built was equipped with an 18 HP two cylinder air cooled engine. Harley Fate standing next to the first one built.
This locomotive was the foundation for the first Plymouth Gasoline Locomotives the AL and BL models both equipped to a much heavier duty cast frame design. Locomotive construction numbers began at #1.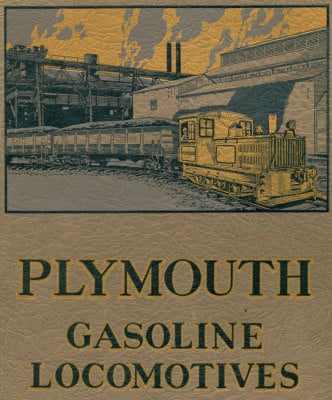 Plymouth Locomotives could be found in the heart of industry in every state across America and around the globe. The most well known industrial locomotives constructed. Many are still in service.
This section will display a wide in depth overview of a majority models that were constructed by Plymouth.
From the First AL models to stainless constructed special models concluding with the modern units when Plymouth closed their doors in the late 1990's.
12 of these critters have been preserved by the American Industrial Mining team. Several have operated at our educational events.
.
(9) units are 36 inch gauge
(1) is 42 inch gauge and
(2) standard gauge units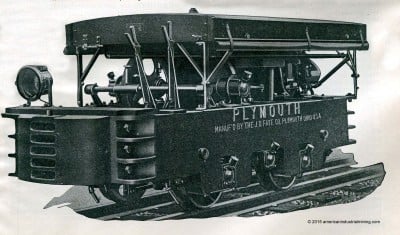 The first Plymouth Gasoline Locomotives were manufactured under the J.D. Fate Company name starting  in 1914 then later Fate-Root Heath Company after a merger in 1919 between Root Heath Mfg. Co. and J.D. Fate Co..
Model AL 3- Ton furnished with a 23 HP Continental Motor

Model BL 6-ton furnished with a 50 HP  Pittsburgh Model "Mogul Type"
The friction drive model was copied by several locomotive competitive builders. Plymouth had it perfected.
The friction drive transmission was made up of 2 parts. The metal disc and the fibre-rimmed wheel which takes the place of a clutch and transmission. The lever would be pulled bringing the metal disc in contact with the fibre-rimmed wheel. The power would then be transferred via chain to the axles.
The concept was very popular due to the fact that the locomotive could start under a heavy load without a sudden jerk. The speed was vairable speed no changing gears and the claim was it could climb steeper grades than any other locomotive.
The Plymouth builder's records indicated
1022 AL models built up to 1936
450 BL models built up to 1931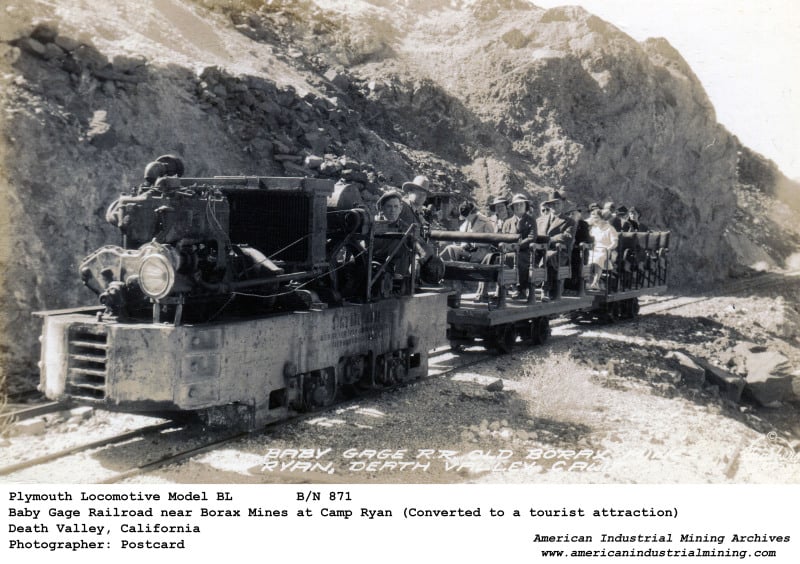 Plymouth Locomotive models offered
The Mechanical Drive Locomotive Models
Reproductions from these original catalogs
will be offered for sale in the near future to support
our Plymouth Locomotive restoration fund.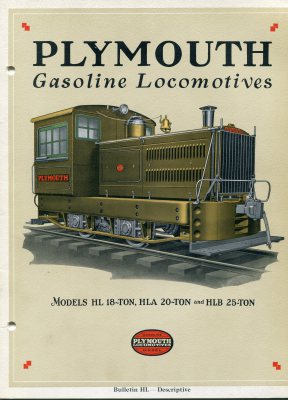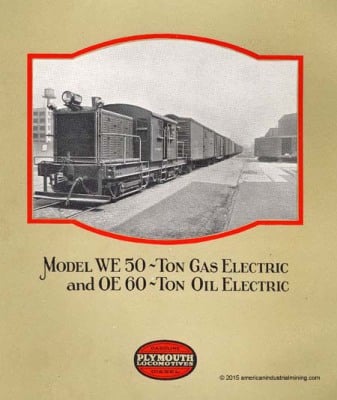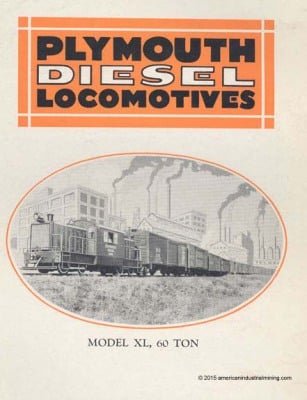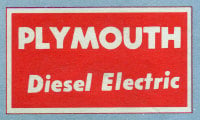 Plymouth Factory Aerial Views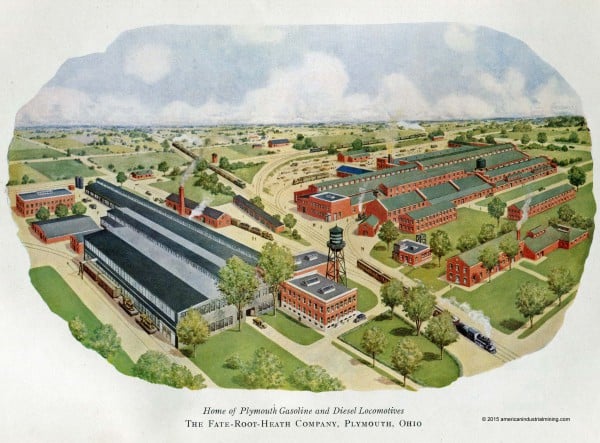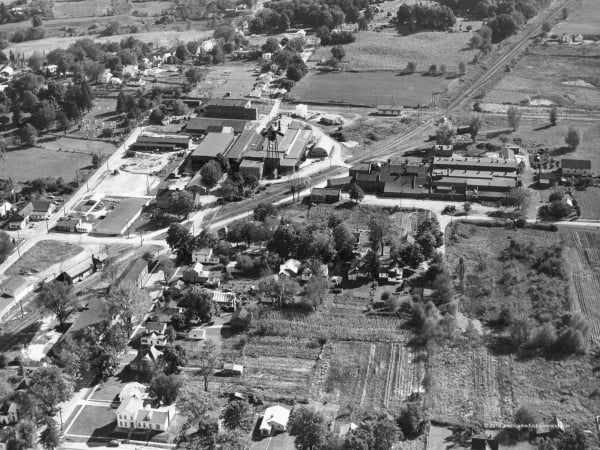 Plymouth Locomotive models offered
The Popular Torque Converter drive models
arrived in the mid 1940's.
Reproductions from any of the original catalogs
will be offered for sale in the near future to support
our Plymouth Locomotive restoration fund. Please ask
for a specific
model. All catalogs not pictured.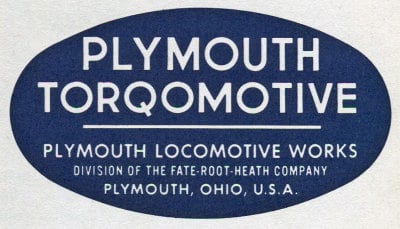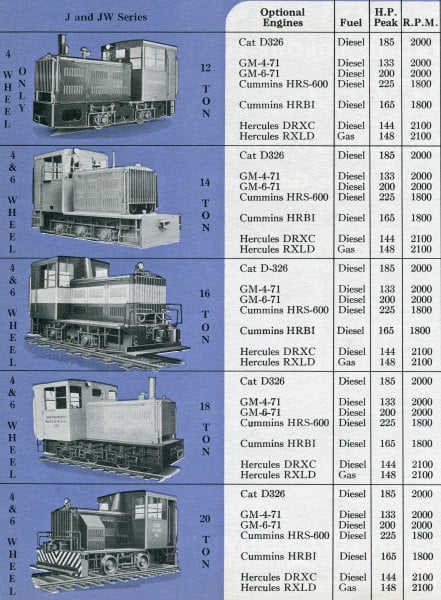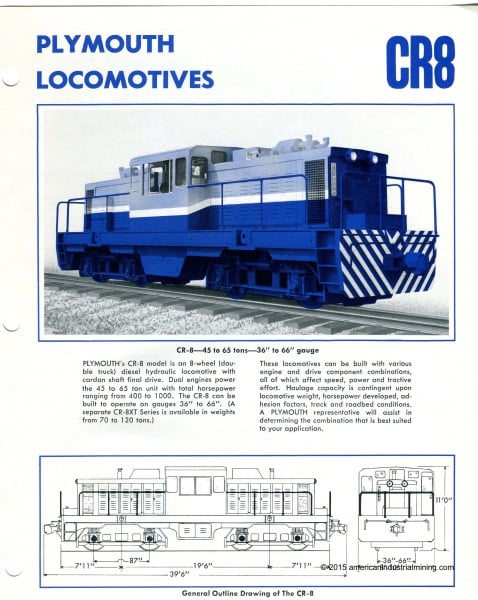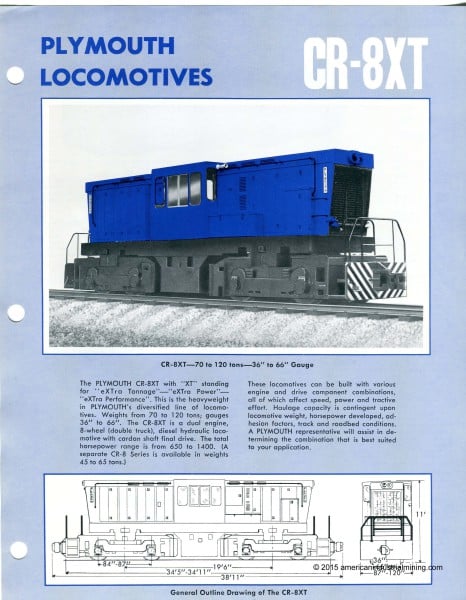 Largest Plymouth Built 70 - 120 Tons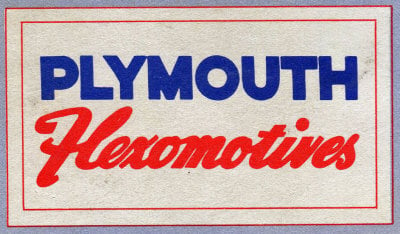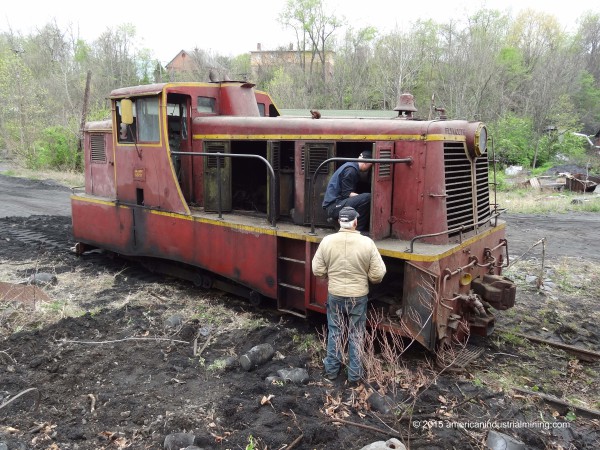 Plymouth even manufactured a small number of Flexomotives.
This particular one we found has (2) Detroit Engines combined power joined to a torque converter then a manual transmission forward reverse gearing system.
This KC60 model weighed 60 Tons
3 side rod driven axles
The Forgotten Plymouth Flexomotive Locomotive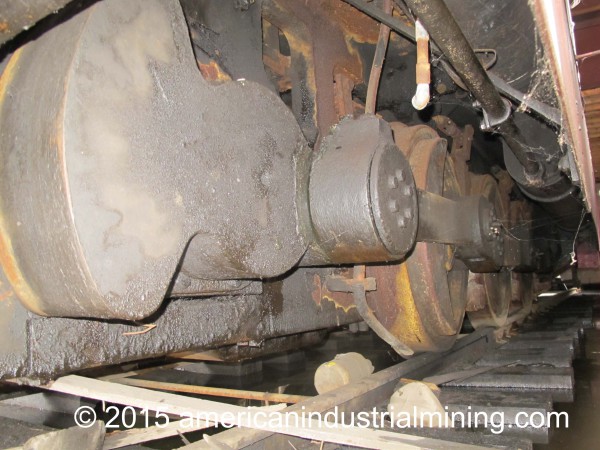 Watch our team bring this locomotive back to life in our preservation section.
Plymouth Locomotive Builder's Photographs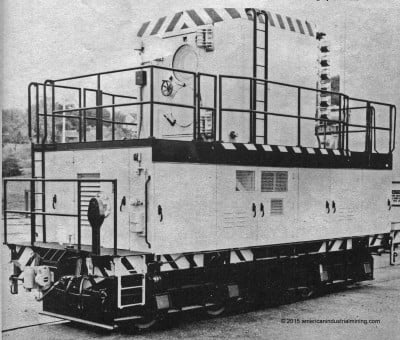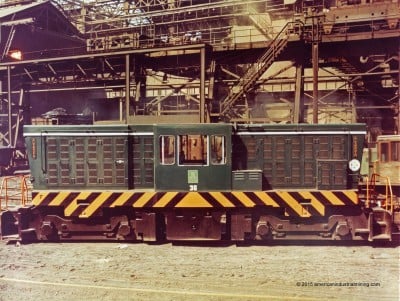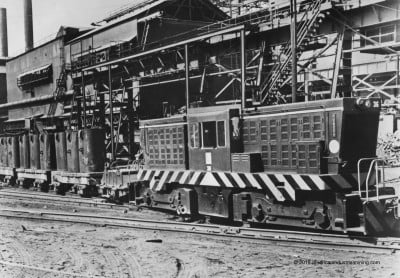 #36 Plymouth Locomotive CR Series Narrow Gauge Locomotive built for
J & L Steel Locomotive pulling a load of "HOT" Ingot Cars from the open hearth furnace
Project Orion 50 ton Plymouth Locomotive built for NASA  & the Atomic Energy Commision
MCC-1 Manned Control Car C/N 6368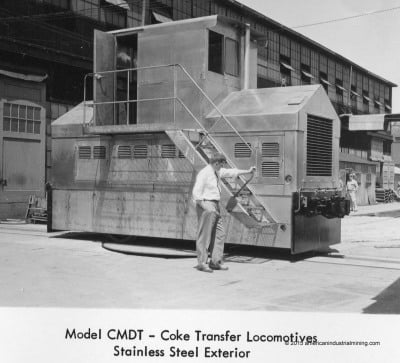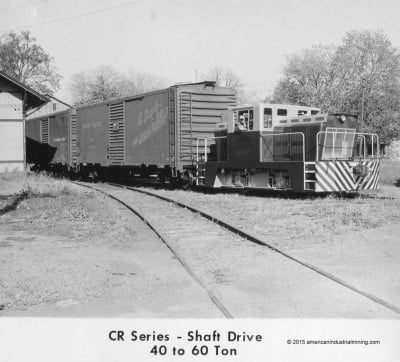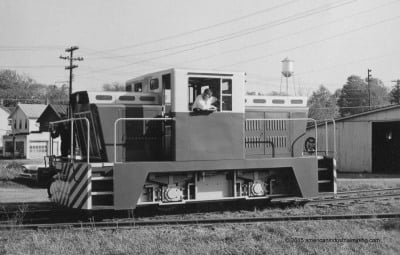 The CR Series performing a test run at the plant
A Unique Plymouth Coke Transfer Locomotive built with an all stainless steel cab to endure the harsh conditions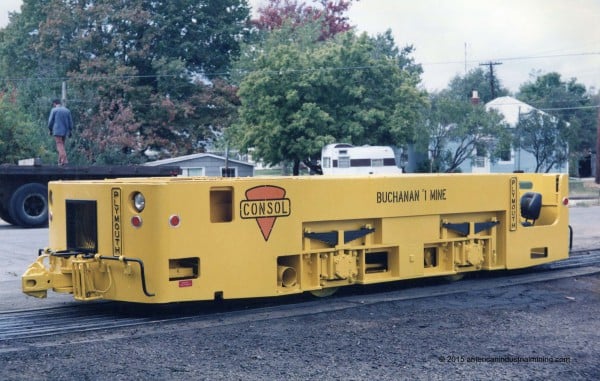 Plymouth Mine locomotive
44" ga built 1985
15-Ton Model DMS 24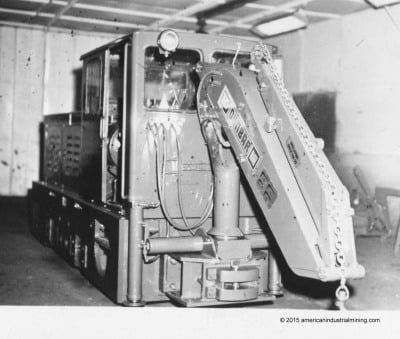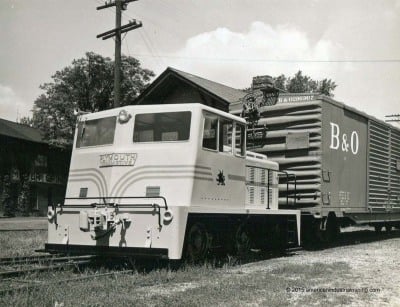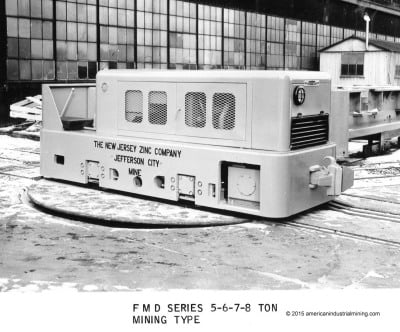 Plymouth DDT narrow gauge locomotive with crane attachment
Plymouth MDT Torqomotive on the test track
Plymouth Mine Locomotive FMD series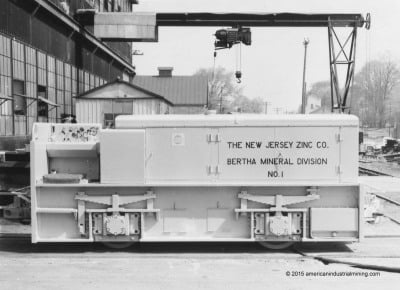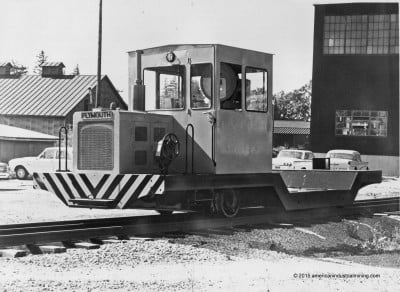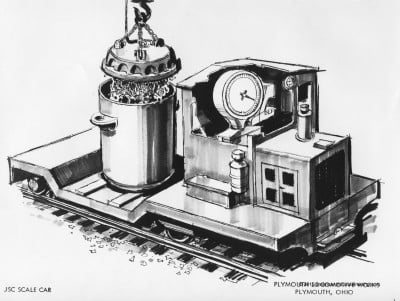 Plymouth Locomotive Model DMS
Plymouth JSC Scale Car on the test track
Plymouth JSC Scale Car Sketch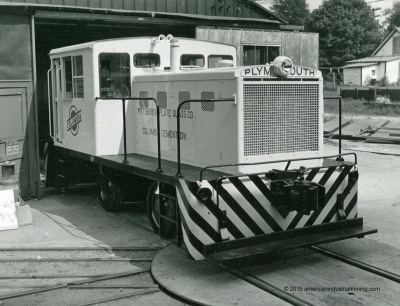 Plymouth MDT Series w/ standard cab
Built for Pittsburgh Plate Glass
UNDERGROUND  MINING  MODELS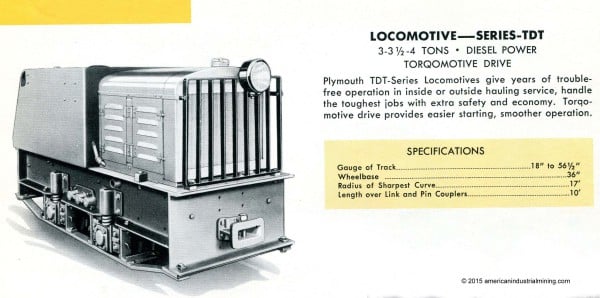 TDT Not Approved for Underground Mining
Plymouth Locomotive Mine-O-Motives
The

Mine-O-Motive

line complied with U.S. Bureau of Mines
schedule #22 for operation in underground gaseous mines
and
schedule #24 for operation in non-gaseous mines
Only 1 model made this requirement FMD-22 & 24
The series were offered as follows:
Model TDT                 3 - 3.5 - 4 Tons

(Only one offered down to 18" Ga)

Model FMD-00            5 - 6 - 7 Tons
Model DMD-00              8 to 12 Tons
Model FMD-22 & 24    5 - 6 - 7 Tons
Model JDT                   15  to  25 Tons
Model DMS                8 - 10 - 12 Tons
Fun Fact :
The Plymouth Locomotive Model FMD-22 was the first diesel - powered locomotive to operate in American Coal Mines approved under the U.S. Bureau of Mines Schedule #22.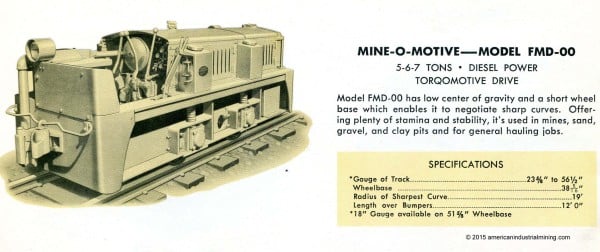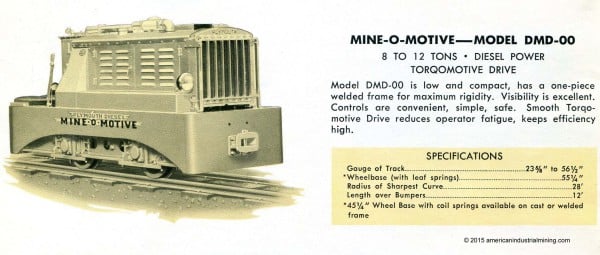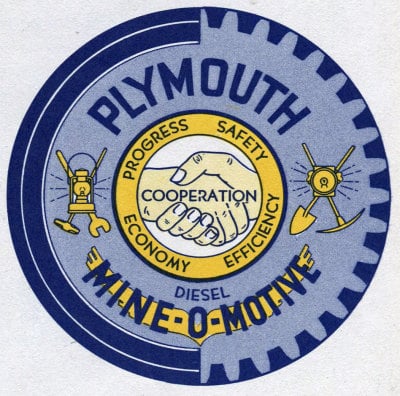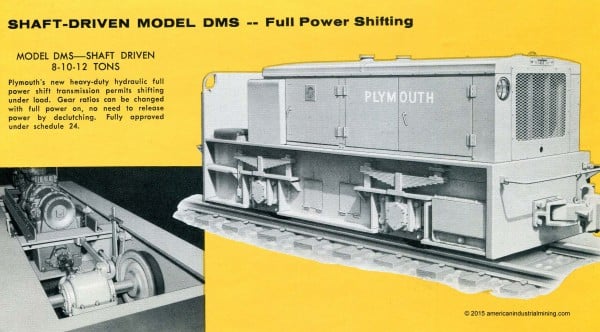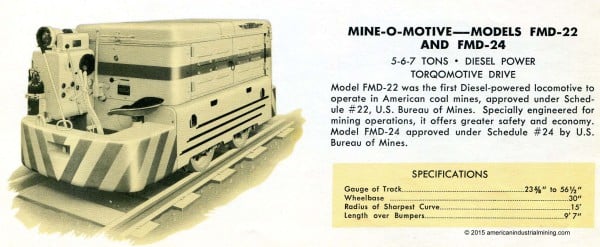 Plymouth ELECTRIC Locomotives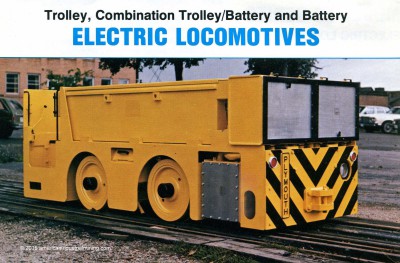 MODEL EB SERIES
6 - 15 Tons
18 inch - 48 inch gauge
Trolley - Combination Trolley / Battery & Battery
Plymouth LOW PRO Diesel Locomotives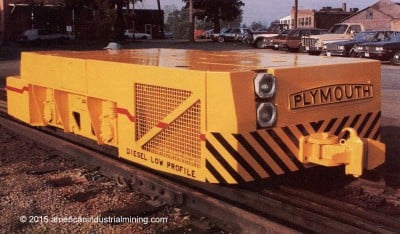 MODEL DCJS SERIES
9 - 12 Tons
36 inch - 48 inch gauge